The battle of Chianti
Very interesting and informative article by Daniele Cernilli aka Doctor Wine
by Daniele Cernilli 02/03/20 |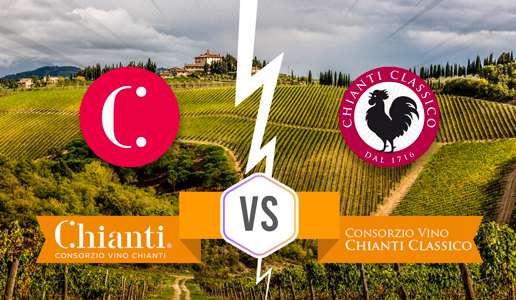 If the creation of the Gran Selezione denomination has created further confusion between the two types of Chianti, what would happen if a discourse over vineyards entered the equation?
In the collective imagination, as well as among many wine lovers, the difference between Chianti and Chianti Classico is not that clear. The fact is that there are many sub-regions that can produce Chianti DOCG and they cover almost half of Tuscany and include lands in the provinces of Florence, Siena, Arezzo, Pisa, Prato and Pistoia. Production is very big, in 2019 estimated at 750,000 hectoliters with a potential of producing 100 million bottles. Since 1932, as recognized in all the modifications regarding protected designation of origin starting in 1967, the oldest areas of production can add the name Classico alongside that of Chianti. Chianti Classico thus comes from a much more limited zone that includes parts of the provinces of Florence and Siena and its production is one quarter of the total. Along with Chianti Classico, which is by now an appellation to itself, there are many Chianti sub-zones: Rufina, Montalbano, Montespertoli, Colline Pisane, Colli Aretini, Colli Senesi, and Colli Fiorentini, while even Chianti Superiore has become a particular denomination. All these wines are based on Sangiovese, which must account for at least between 70% and 80% depending on the denomination but, as seen in recent years, but can be made with only that varietal, as seen in recent years. Then there are the Riserva wines, those that have been aged longer, and now, and only for Chianti Classico, the Grand Selezione, created to represent the best wines in regard to quality, made from lower yields and aged even longer.
This is the battlefield. When Gran Selezione was introduced, there was a kind of "gentlemen's agreement", totally informal and based on personal relationships between the heads of the Consorzio del Chianti Classico producers' association and those for Chianti, who agreed not to use the name much in the same way Chianti Classico did in regard to Chianti Superiore. Thus it appeared that a Grand Selezione could only be a Chianti Classico.
However, times change, those responsible for the producers' association also and now there are some Chianti producers who want to use the term Grand Selezione for their best wines. As one would expect, all hell broke loose. From a legal point of view, considering that Gran Selezione is recognized by the Ministry of Agriculture as a term, Chianti producers and those of some other wines would appear to have the right to use the term. In regard to opportunity and reciprocal relations, also in view of the fact that some major producers in the area make both wines and are members of their respective associations, the issue leaves much up in the air. And all this regardless of whether or not you approve of the concept of a Grand Selezione, a bone of contention between some Chianti Classico producers, which is another story.
One possible answer to this problem, which is frankly very reasonable, has come from Chianti Rufina producers, who have not joined the push by other Chianti producers to use the name Grand Selezione and opted for using the Additional Geographic Mention formula as is done in the Langhe. This in order to underscore the value of individual vineyards, rather than seek higher quality through selected blends, whether this is done between vineyards or in the winery. For sure, the tension and embarrassment this situation is generating, creating even further confusion between Chianti Classico and Chianti, is doing no good to the world of Italian wine. And this has demonstrated, yet again, how there is no clear, shared path towards enhancing factors that cannot be replicated, like vineyards, territories and alike. While this suggestion is not original, maybe it would not be a bad idea to take a look at what they do in France and try not to create situations that cause tensions as a first step if one really wants to enhance the value of Italian wine production.
---