|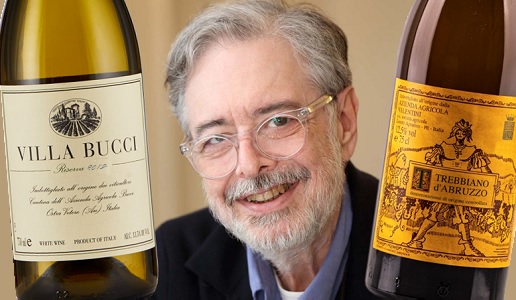 With the presentations of the 2023 Essential Guide to Italian Wine behind us (the past weekend in Milan), I turn my attention back to the great Italian white wines. In particular, I want to draw your attention to two undisputed very Italian greats, a Trebbiano and a Verdicchio.
I return here to a subject I am very passionate about: the great Italian white wines that, in my view, are generally undervalued, especially if they are made from native grapes rather than the "French" varietals. During the tastings for our Essential Guide to Italian Wine we tasted many this year that were of formidable quality while two were truly exceptional. In sports terminology you could say they were in "top form" because they were from years that were particularly favorable.
The first is an authentic icon among Italian white wines: a Trebbiano d'Abruzzo 2018 from Francesco Paolo Valentini. The harvest was difficult that year due to some excessive rain and a fairly widespread presence of powdery mildew and peronospora, which forced growers to make some harsh selections during picking. Francesco Paolo, however, is a great, serious and consistent winegrower and he was able to produce a true masterpiece, in my humble opinion.
The second is a Castelli di Jesi Verdicchio Riserva Villa Bucci 2019. The harvest in this case took place in almost opposite conditions with a hot and rather dry growing season that allowed for a very select production, with a lower number of bottles produced. Nevertheless, this is perhaps the best version I can remember.
We gave both wines a rating of 99/100 and three DoctorWine "seals" and chose Villa Bucci for our Best White Wine of the Year award because its price was slightly lower. It will save time if I just give you our tasting reviews and once you have tasted them for yourselves tell us which one you liked better.

Valentini
Trebbiano d'Abruzzo 2018
99/100 – € 105
100% Trebbiano. Matures 4 years in big barrels. Bright straw yellow color. Bright straw yellow color. Complex and very clear aromas of renette apple, yellow citrus, wildflowers and hints of olive paste and flint. Tense and agile taste, savory and very elegant, dynamic body perfectly sustained by its acidity that makes it irresistibly easy to drink. Persistent finish. A great wine.

Bucci
Castelli di Jesi Verdicchio Riserva Villa Bucci 2019
99/100 – € 45
100% Verdicchio. Matures 18 months in big barrels. Intense straw yellow color with greenish hues. Wide, enveloping and very typical aromas of anise, yellow plums, alfalfa, wildflowers and flint. Enveloping and neat taste, savory, warm but agile and very elegant. Very balanced. Exceptionally long finish. Great version.