The great wines of Bruno Giacosa
by Daniele Cernilli 02/08/21 |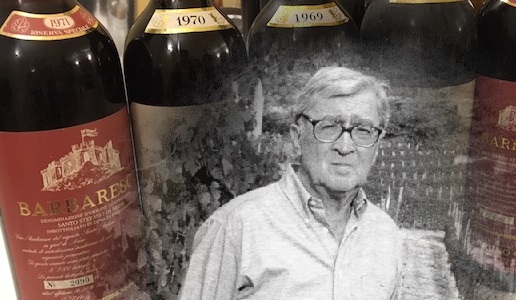 Giacosa's wines, like all the world's great wines, express elegance more than boldness and structure and they have a very great propensity to age.
I met Bruno Giacosa in February 1980 at one of first editions of the Nonino Risit d'Aur prize. I was with Gino Veronelli with whom I was working and I was just 25 years old. During the luncheon they served a wine that, even if I was still a novice, I thought was fantastic. I then told Veronelli: "Not bad, this Nebbiolo". His reply was: "You, cretin! This is not a simple Nebbiolo, this is a 1971 Barbaresco Santo Stefano Castello di Neive".
Sitting in front of me was a man wearing glasses who smiled at the scene he just witnessed. It was Bruno Giacosa. I apologized, voiced my appreciation of his wine and we began to talk using the formal third person "lei" distinction, which we did for as long as I had the pleasure of knowing him.
As many of you know, Giacosa was one of the key figures in the world of Langhe winemaking. For many years not only did he select the grapes for the wines of his estate – Barbaresco (the winery is in Neive) and Barolo, as well as Arneis (of which he was one of the first producers) and a Spumante Metodo Classico made with Pinot Noir acquired in Oltrepò Pavese – but he also worked as a consultant, especially for Fontanafredda, for whom is acquired massive quantities of Nebbiolo grapes from the Langhe.
Up until 1996, when he acquired the Falletto di Serralunga estate, he got his grapes from historic suppliers who cultivated their vineyards under his close supervision. Thus he had a unique experience with and knowledge of the vineyards in the Langhe that few could match.
I could go on forever with anecdotes about his wines. One involves a wine that is no longer produced, Barolo Riserva Collina Rionda, and in particular the legendary vintage 1982. It took place during the finals for the Tre Biccheri (Three Glasses) award and we were in Bra, at the Boccondivino restaurant, the historic headquarters of Arcigola first and then Slow Food, before they moved to Agenzia di Pollenzo. Aside from yours truly, those present included Gigi Piumatti, Piero Sardi and Carlo Petrini and at the time we were proud supporters of the Barolo Boys and their new winemaking approach. This did not mean that we underappreciated the "traditional" producers but we thought the "new" producers, who were then young as were we, were more interesting because they sought to make Langhe wines in a different way.
During the tasting, which was rigorously "blind", one wine split the jury. I liked it, others did not as much. But at a certain point, Petrini said: "Hold on, this is a very great wine. Either we choose it for the award or I'll chain myself to the table until you agree with me". Fortunately, we gave the prize to this wine and it was, in fact, Collina Rionda 1982.
The reason why this wine was subject to such discussion was that, as I tried to explain in my editorial dedicated to blind tastings, certain wines take time to reveal themselves. They have extraordinary elegance and a great propensity to age, while their structure is less imposing, they are more austere and, in a blind tasting, they risk not being fully understood if the proper amount of attention is not paid to them. This was an emblematic example but it is also true for many of Giacosa's wines as well as those of other great traditional Langhe producers.
I, personally, adore Giacosa's Barolo and Barbaresco, especially those that have the red label, which Bruno reserves for the wines he thinks are particularly good, and consider them to be among the best in the world. And like all of the world's great wines, those of Rousseau to the great reserves of Biondi Santi, they express elegance more than boldness and great structure. They are marathoners, not middle-distance runners, and with aging they reach levels of complexity unreachable for other wines. This is the result of something one learns over time, listening to this wines with attention and respect, with the awareness that if you do not understand them this will place a limit for those who taste them.
FROM CHARLES:
Thank you, Daniele(aka Doctor Wine), for this enlightening article.  In the spring of 1985 Sheldon Wasserman published his book "Italy's Noble Red Wines." Sheldon invited his publisher and  Dominic Nocerino, of Vinifera Imports to my home to celebrate the occasion. Dominic had just moved from Chicago to NY and was the importer and distributor of the wines of Bruno Giacosa. Giacosa was already one of the top producers in the Langhe and I really liked his wines. Dominic brought the 1964 Barbaresco Santo Stefano Castello di Neive. I still remember the wine and it might be the best Barbaresco I ever had the pleasure to drink.  I felt that I had to go and visit the winery.  In the summer of 1985 I travelled to Piedmont and visited the Giacosa winery with Ed Mc Carthy and Mary Ewing Mulligan, MW.  It was a wonderful visit, and only the first of many that followed over the years.
---