Tom Hyland on Italy's 50 best White Wines.  I am in agreement with Tom on his choices.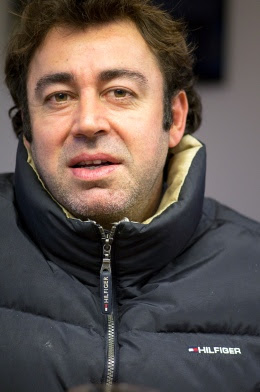 Sabino Loffredo, winemaker, Pietracupa, Montefredane, Campania 
His Greco di Tufo is one of Italy's 10 greatest white wines 
(Photo ©Tom Hyland)
I'll get right to it – Italian white wines are among the finest whites in the world. If you've been tasting them over the past decade, you know that to be true (unfortunately, there are too many wine critics that either have not been sampling them or have totally dismissed them. It's their loss).
We live in a world where we are submitted to high ratings and overblown descriptors for too many wines; whether you trust these reviews or not, the fact is most of them are for red wines. Now some whites, especially white Burgundies and certain German and Alsatian Rieslings do receive great praise. But it's rare to read much in the way of exemplary admiration for Italy's best white wines, at least outside of Italy.
Thus, I'd like to change that with this post. I've tasted so many vibrant and compelling whites from Italy these past fifteen years that I feel the need to shout my acclaim for these wines, as they truly deserve it. I love the everyday whites from Italy as well – there are numerous examples of Soave, Gavi, Vermentino and Pinot Bianco that I'd drink in a heartbeat – but here is my list of the 50 Best Italian White Wines. (Note: This was incredibly difficult to list only 50 Italian white wines, so at the end of the post, I have listed an additional 25 wines that just missed out on the Top 50.)
I'm not going to list them from 1-50 (that list would probably change every day), but rather put them into five separate groupings of the Top Ten, Second Ten and so on.Each wine will be listed in its grouping alphabetically by the name of the estate.(Note: I did not include dessert wines – I'll list those in a future post.)
1st Ten
Colterenzio Sauvignon "Lafoa" (Alto Adige)
Vigne Marina Coppi Timorasso "Fausto" (Colli Tortonesi)
Marisa Cuomo "Fiorduva" (Costa d'Amalfi)
Andrea Felici Verdicchio dei Castelli di Jesi Riserva "Il Cantico della Figura"
Livio Felluga "Terre Alte" (Rosazzo Bianco)
Pieropan Soave "Calvarino" (Soave Classico)
Pietracupa Greco di Tufo 
Cantina Terlano Pinot Bianco Riserva "Vorberg" (Alto Adige)
Cantina Tramin Gewürztraminer "Nussbaumer" (Alto Adige)
Valentini Trebbiano d'Abruzzo
If I had to name the best wine in this top ten, year in and year out, it would be thePietracupa Greco di Tufo. Medium-full with perfect balance, distinct minerality and ideal varietal purity, this is a reference point for Greco di Tufo – and in reality, for what a great white wine is all about. I rate this a bit higher than the winery's superb Fiano di Avellino (see below), but both wines are stunning, a tribute to the work and passion of winemaker/proprietor Sabino Loffredo.
The Nussbaumer Gewürztraminer is simply delicious and sexy at the same time- you can get lost in the perfumes of this wine. The Colterenzio "Lafoa" Sauvignon is deeply concentrated and a great example of cool climate Sauvignon with distinctive herbal qualities as well as beautifully ripe fruit.
I rated the "Calvarino" Soave from Pieropan higher than the "La Rocca" (see below) because of its more classic profile, while the Terlano "Vorberg" is as complex and as dazzling a Pinot Bianco as there is in Alto Adige. The "Fiorduva" from Cuomo is an iconic Campanian white, made from local varieties Ginestra, Fenile and Ripoli and given oak treatment, this is as singular a white wine as any in Italy; it must be experienced to be believed.
The Felici Verdicchio, from a relatively new estate, is as pure and as focused a Verdicchio as I have ever tasted; cement-fermented and aged, this has exceptional length. The Coppi Timorasso is the finest example of this singular white from Piemonte, one with powerful minerality and stunning complexity. The Felluga "Terre Alte" is exhibit number one in Italy that with a great blended white (Friulano, Pinot Bianco and Sauvignon in this instance), the total is greater than the sum of the parts. A wine that ages extremely well (twenty year-old versions are usually in excellent shape), this wine has stood the test of time.
Finally, what more can I say about the Valentini Trebbiano d'Abruzzo that hasn't already been said? This great producer showed us the true potential of this variety; his version towers over most of the competition. Unlike the straightforward, relatively simple examples of Trebbiano d'Abruzzo from most producers, the Valentini version is powerful and tightly wrapped – it demands time. Boy, does it ever reward the patient! Another wine that is superb after a decade or two, it has richly earned its status as one of Italy's finest wines – red or white.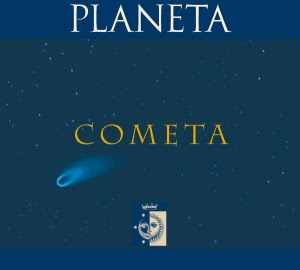 2nd Ten
Cantine Lunae Bosoni Vermentino "Etichetta Nera" (Colli di Luni)
J. Hofstatter Gewürztraminer "Kolbenhof" (Alto Adige)
Lo Triolet Pinot Gris (Valle d'Aosta)
Manincor Sauvignon "Lieben Aich" (Alto Adige)
Pietracupa Fiano di Avellino
Planeta "Cometa" (Sicilia)
Tenuta Sarno Fiano di Avellino
Vadiaperti Greco di Tufo
Villa Bucci Verdicchio dei Castelli di Jesi Riserva
Villa Diamante Fiano di Avellino "Vigna della Congregazione"
Three versions of Fiano di Avellino here – all powerful, all superb. The Pietracupa the most refined, the Diamante the most dynamic, the Sarno, the most aristocratic. Each wine is a great representation of Fiano.
A different style of Fiano is the "Cometa" of Planeta. This has been one of Italy's top whites for some time; recent vintages have been nothing short of brilliant. I love the exotic fruit profile along with the notes of chamomile and thyme. I love the slightly oily texture of this wine! The Hofstatter Gewürztraminer is deeply concentrated, has brilliant varietal focus and needs time to show its greatness.
The Manincor "Lieben Aich" is from biodynamic vineyards near Lago Caldaro in Alto Adige; this offers great varietal purity and persistence. The Villa Bucci is the most famous and perhaps the most consistent offering of Verdicchio; the wine is all about finesse and charm. The Vadiaperti is a first-rate Greco di Tufo with outstanding balance and distinct minerality. It becomes amazing with time; I tasted a twenty year-old version at the winery and was stunned by its color and freshness. Proof that bigger is not better.
The Lo Triolet Pinot Gris is the finest example of this variety in all of Italy. Produced from grapes situated 2900 feet above sea level (arguably the highest elevation in the world for this variety), this is a stellar wine with pinpoint perfumes of apricot, red apple and pear backed by vibrant acidity and white spice notes in the finish. This Valle d'Aosta offering is layered, engaging and impossible to resist.
Finally, the Lunae Bosoni Vermentino "Etichetta Nera" is arguably the finest aromatic white in all of Italy. Brilliant varietal purity with vibrant acidity and amazing length – a great white from Liguria and as good a Vermentino as you will ever taste.
Cutizzi Vineyard of Feudi di San Gregorio, Santa Paolina, Campania
Greco di Tufo zone (Photo ©Tom Hyland)
3rd Ten
Elisabetta Foradori Nosiola "Fontanasanta" (Vigneto delle Dolomiti)
Feudi di San Gregorio Greco di Tufo "Cutizzi"
Ettore Germano Riesling "Herzu" (Piemonte)
Manincor Pinot Bianco "Eichhorn" (Alto Adige)
Massa Timorasso "Sterpi"
Mastroberardino Fiano di Avellino "Radici"
Emidio Pepe Trebbiano d'Abruzzo
Pieropan Soave Classico "La Rocca"
Santa Chiara Vernaccia di San Gimignano "Campo alla Pieve"
Elena Walch Gewürztraminer "Kastelaz"
A wide array of regions and styles in this group. The Foradori Nosiola is a one-of-a-kind wine; made from an indigenous variety of Trentino, Foradori ferments the grapes with the skins in amphorae from Spain. This is a sensual, multi-layered white that reveals greater complexity over the years.
The Santa Chiara Vernaccia di San Gimignano is as rich, complex and as focused an example of this wine type I have ever tried – simply perfect! The Walch Gewürztraminer is appealingly fruity and spicy – a wonderful combination.
The Feudi di San Gregorio "Cutizzi" is a stylish Greco di Tufo from a single vineyard; the wine has subtle tropical fruit perfumes and great finesse. The Mastroberardino "Radici" has become one of the best examples of Fiano di Avellino over the past few years; this offers bright fruit along with lovely purity as well as an appealing charm. The "Herzu" from Ettore Germano is a marvelous Riesling with distinct minerality and subtle power; if you've never had Riesling from Piemonte, this will surprise you!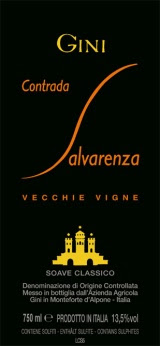 4th Ten
Anselmi "Capitel Foscarino" (Veneto)
Bastianich "Vespa" Bianco (Friuli Colli Orientali)
Bisci Verdicchio di Matelica "Vigneto Fogliano"
Castellari Bergaglio Gavi "Pilin"
Castello della Sala "Cervaro della Sala" (Umbria)
Castello di Tassarolo Gavi "Alborina"
Gini Soave "Contrada Salvarenza Vecchie Vigne"
Vigna Surrau Vermentino di Gallura "Sciala"
Cantina Tramin "Stoan" (Alto Adige)
Le Vigne di Zamo Friulano "Cinquantanni" (Friuli Colli Orientali)
Another great Verdicchio is the Vigneto Fogliano from Bisci, one of the premier producers of Verdicchio di Matelica. This is a single vineyard wine from thirty-five year old vines; there is great varietal purity (notes of spearmint and elderberries) as well as outstanding concentration and persistence. This is precise in its execution – and simply delicious!
Two examples of Gavi in the group, a wine many seem to have forgotten. The Tassarolo is from biodynamically-farmed grapes and offers exotic guava and candied fruit aromas, lovely acidity, perfect harmony and great finesse. The Bergaglio, is a completely different style, as it is barrique-aged; there is marvelous texture and outstanding complexity. The wood notes are evident, but play a supporting role; all in all, this is a strikingly distinctive Gavi.
The "Stoan" from Cantina Tramin, an ingenious cuvée of Chardonnay, Sauvignon, Pinot Bianco and Gewürztraminer, has a razor's edge feel to it, given its vibrancy and minerality. There is tremendous depth of fruit and persistence; simply put, this is an original. The "Cinquantanni" (fifty years) Friulano from Vigne de Zamo is Friulano taken to a higher level – what amazing richness and focus!
The Bastianich Vespa earned it rightful place on this list more than a decade ago. That is appropriate, given that this blend of Chardonnay, Sauvignon and Picolit, while very appealing upon release, is generally at its finest only after a decade in the bottle. Super consistent! The Anselmi "Capitel Foscarino" is a deeply concentrated and thrillingly concentrated Garganega (with 10% Chardonnay) that never fails to excite the senses.
The Surrau "Sciala" Vermentino is a great example of how tantalizing Vermentino di Gallura truly is. Offering excellent concentration and alluring perfumes of honeydew melon, jasmine and pear, this is a wine you can't help but fall in love with every time you taste it.
The Cervaro della Sala is a barrique-aged blend of 85% Chardonnay and 15% Grechetto that is as complex and as singular as almost any wine on this list. This is a great combination of varietal character and richness with great finesse, charm and style; this is another white to be enjoyed years down the road. The Gini "Contrada Salvarenza" is made from vines ranging from 60 to 100 years of age; powerful in its approach, this is a great Soave with outstanding persistence and presence.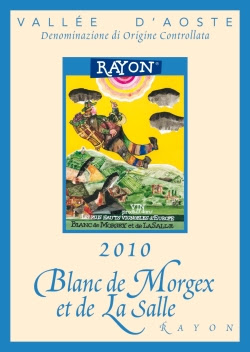 5th Ten
Abbazia di Novacella Kerner "Praepositus" (Valle Isarco, Alto Adige)
Stefano Antonucci Verdicchio dei Castelli di Jesi Riserva
Ca' Rugate Soave Classico "Monte Alto"
Cave du Vin Blanc Blanc de Morgex et de La Salle "Rayon" (Valle d'Aosta)
Peter Dipoli Sauvignon "Voglar" (Alto Adige)
Filippi Soave "Castelcerino" 
Kuenhof Riesling "Kaiton" (Vallee Isarco)
Malvirà Roero Arneis "Trinità" 
Umani-Ronchi Verdicchio dei Castelli di Jesi Riserva "Plenio"
Villa Raiano Greco di Tufo "Contrada Marotta"
The Cave du Vin Blanc wine from Valle d'Aosta is made entirely from Prié Blanc; the term Rayon is a synonym for Prié Blanc. Steel-aged, this is medium-full with aromas of stone fruit and apples, this changes to apple cider notes after three or four years. There is distinct minerality, excellent persistence and lively acidity. A fascinating wine, whether tasted at three or ten years of age.
Few vintners craft Soave with as much precision – or love – as Filippo Filippi. His Castelcerino offering, from one of the best sites in Soave has a chalkiness that is quite reminiscent of a Premier Cru or Grand Cru Chablis. Great complexity here as well as age worthiness. The Ca' Rugate Soave Classico "Monte Alto" fermented in barriques and 20-hectoliter barrels, is extremely rich; there is a subtle nuttiness that accompanies the pear and melon perfumes. This is a serious Soave that takes this wine type to new places!
The Kuenhof Riesling is produced from soils containing quartz, schist and crush rock, which certainly give his wine a clear-cut individuality. The "Kaiton" Riesling has engaging aromas of apricot, petrol and even a note of green tea; medium-full with steely acidity, this has precise minerality and lovely varietal focus. Da non perdere!
The Malvirà Arneis "Trinità" has been an outstanding example of its type for many years. A small percentage is fermented in oak, giving the wine added texture. Lovely aromas of hawthorn, melon and pear; excellent persistence and notable minerality.
The Abbazia "Praepositus" Kerner displays the promise of this variety, grown in the Valle Isarco in far northeastern Alto Adige. Offering perfumes of papaya, melon and orange rind, there are also delicate yellow spice notes. Lovely acidity and complexity – I always find something new in this wine every time I taste it.
Umani-Ronchi is an accomplished producer of Verdicchio; their finest wine is the "Plenio" Riserva. One-third of the wine is aged in large Slavonian casks to give the wine a touch of wood as well as additional texture. Perfectly ripe fruit, lively acidity and outstanding complexity, this is at its best seven to ten years after the vintage.
Stefano Antonucci is one of the most dynamic personalities of the Verdicchio dei Castelli di Jesi zone – or anywhere in Italy, for that matter. His riserva, matured for about a year in barriques, is a gorgeous wine, one that is deeply concentrated, has outstanding complexity and persistence as well as enticing aromas of orange blossoms, spiced pear and acacia. This is more proof of how well truly great Verdicchio gains in complexity after several years.
Finally, the Peter Dipoli Sauvignon "Voglar" is all about varietal purity. Simply out, every component of this wine meshes seamlessly; taste this wine and you realize what a great Sauvignon – or white wine, for that matter – is all about. Simply perfect!